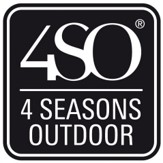 4 Seasons Outdoor Store
The stylish and comfortable design of 4 Seasons Outdoor is something that immediately stands out. 4 Seasons Outdoor celebrates the outdoors in an inimitable way!
4 Seasons Outdoor is a brand that is completely focused on outdoor furniture. Because they have specialized in this for years, they manage to think innovatively about design and use of materials. At the same time, affordability is kept in mind. We try in every possible way to let you enjoy the outdoors as much as possible. 4 Seasons Outdoor is therefore able to offer suitable garden furniture for every garden.
By working with high-quality materials, 4 Seasons Outdoor succeeds in offering you the best possible quality. If you choose 4 Seasons Outdoor, you can count on synthetic wickerwork of the highest quality, stainless steel and teak! This wickerwork in particular is something 4 Seasons Outdoor is proud of. Despite the natural appearance of this wickerwork, it is a lot sturdier than natural wickerwork as you normally encounter.
With this beautiful vision and the most beautiful materials, 4 Seasons Outdoor has already launched dozens of series. Because 4 Seasons Outdoor finds it important to follow trends, beautiful garden furniture is added every year!