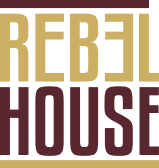 Rebelhouse
THE STORY BEHIND REBEL HOUSE
When we started selling high-profile furniture and interior pieces online with a small but ambitious team from the Achterhoek region in December 2016, everyone thought we were crazy. And maybe we are a bit, because the average Dutch interior is mostly very well-behaved and standard, right?
However, we are convinced that you will not achieve anything if you resign yourself to the way things are now. We believe in the power of creativity and the courage to change. We believe that people should live the way they live: with colour, élan and, above all, zest.
With this philosophy, we have grown into one of the most talked-about online home furnishing shops in the Netherlands. With our outspoken collection, we've already kicked up a lot of dust from all the dull furnishings throughout the Netherlands. So who's crazy now?
Moreover, we are far from finished. It is our mission to provide every interior in the Netherlands, for every budget, with iconic pieces with character. Yours too.
So feel free to look around and spice up your interior!